Important Notice:
Do Never copy our codes fo any commercial purpose !!
Recently , we have found that some code books
(Game code Vol.18 from Creative Games Ltd. in Hong Kong ) ,
(Anme action replay code book from YK group in Thailand) and
(Tonbo magazine in Thailand) copy AGSCC 's codes.

Copy other's codes for any commercial purpose without permission is an illegal issue.
Our team spend many hours to hack these codes , please "Creative Games Ltd" and "YK Group " show some respect to our teams.
We know that it may be many similarities in codes searching from differnet hacker , but it is not possible to have the same code order and same use of joker command. Different hacker may create different Joker command .So we have confidence that "Game Code Vol.18" copy codes from AGSCC. We hope "Creative Games Ltd" and "YK Group " can obey the copyrights law in Hong Kong and Thailand .Do never copy codes from any site in internet for any commercial purpose.We may take lawful action if these code books continue to copy codes from our site.
For further negotiations, or if you want to use our codes, Creative Games Ltd , YK GRoup may contact our teamfirst.

There are many copied codes,below are only some of examples(evidence) of copying codes :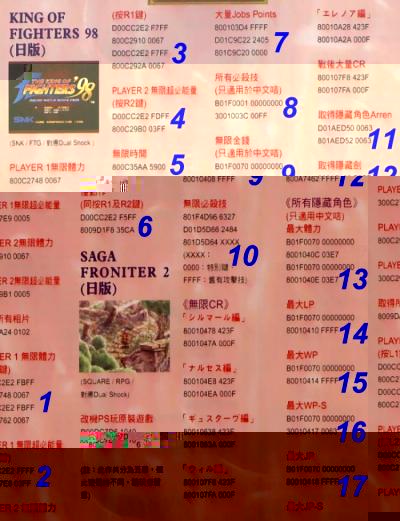 1 : Copy codes from AGSCC (King of Fighter'98) Code number :1
2 : Copy codes from AGSCC (King of Fighter'98) Code number :2
3 : Copy codes from AGSCC (King of Fighter'98) Code number :3
4 : Copy codes from AGSCC (King of Fighter'98) Code number :4
5 : Copy codes from AGSCC (King of Fighter'98) Code number :5
6 : Copy codes from AGSCC (King of Fighter'98) Code number :6
7 : Copy codes from AGSCC (Saga Frontier 2) Code number : 2
8 : Copy codes from AGSCC (Saga Frontier 2) Code number : 3
9 : Copy codes from AGSCC (Saga Frontier 2) Code number : 4
10 : Copy codes from AGSCC (Saga Frontier 2) Code number : 5
11 : Copy codes from AGSCC (Saga Frontier 2) Code number : 9
12 : Copy codes from AGSCC (Saga Frontier 2) Code number : 10
13 : Copy codes from AGSCC (Saga Frontier 2) Code number : 11
14 : Copy codes from AGSCC (Saga Frontier 2) Code number : 12
15 : Copy codes from AGSCC (Saga Frontier 2) Code number : 13
16 : Copy codes from AGSCC (Saga Frontier 2) Code number : 14
17 : Copy codes from AGSCC (Saga Frontier 2) Code number : 15
27/4/1999
---